Comfortable rooms
Archipel Volcans welcomes you to a peaceful haven with breath-taking views of the iconic Puy de Dôme. Our 19 family rooms have been completely renovated: from the bedding to the decorations, from the furniture to the bathrooms; we paid special attention to the rooms' layout to create a cosy cocoon that's perfect for relaxing. All of our rooms feature a private balcony (bar table with two armchairs) with a view of the property or the Puy de Dôme so you can get a restful breath of fresh air.
Archipel Volcans is labeled Gîte de France 4 épis and 3 stars hotel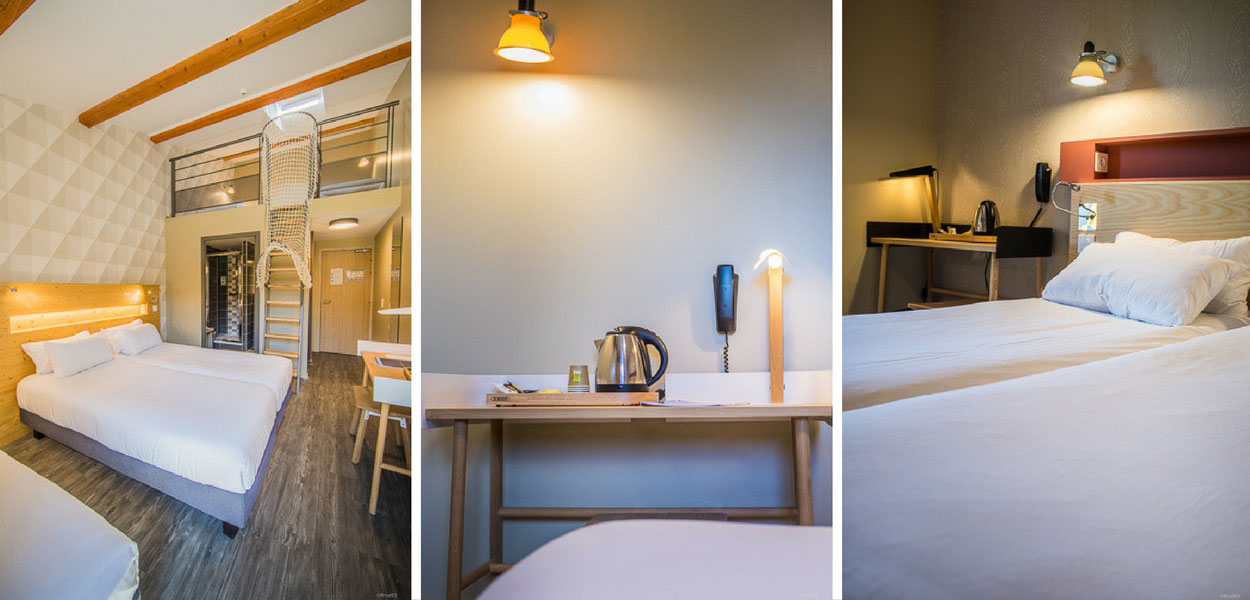 Rooms: for two to five people
starting at €69 per room
_______________________
A FRIENDLY WELCOME
Whether you visit us as a couple or with the entire family, our contemporary and naturally decorated rooms provide a haven of tranquillity and relaxation. They offer views of our green spaces or of the Puy de Dôme, and feature a private balcony.
Some rooms have twin beds in a mezzanine for our younger guests.
One room (sleeps four) is accessible to persons with reduced mobility in compliance with current legislation.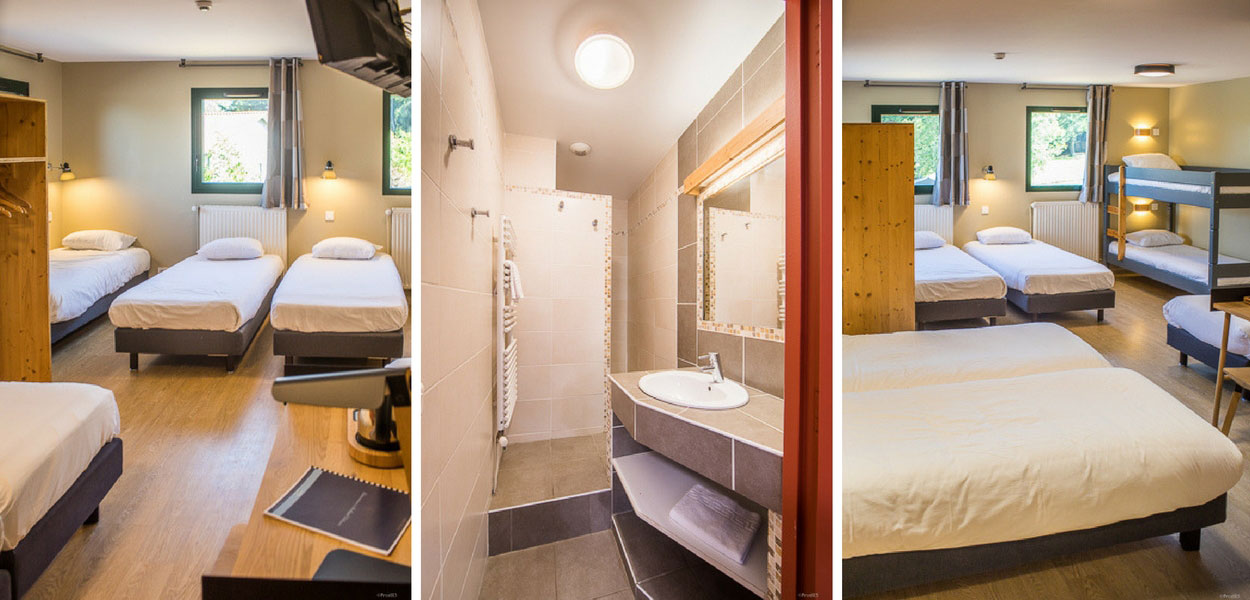 Six-seven guest rooms
starting at €143 per room
_______________________
BRING YOUR WHOLE TRIBE
Perfect for stays with friends, family reunions or weekends with friends, these two "group" rooms feature all the comforts worthy of a three-star hotel.
Highlights : two bathrooms with floor-level shower (sleeps seven) and toilet, their modular configurations (double or twin beds, on request) and their tasteful decorations provide the ingredients for a welcoming ambiance.
STOP RANDO
On request and subject to availability, take advantage of our "STOP RANDO" offer. This shared-room system (different reservation files) offers you all the comfort you need at a low price!
Starting at €25 per person per night.
Amenities and services +
__________________________
Flat-screen satellite TV
Free WI-FI
Desk
Hair dryer
Linens
Courtesy tray
Non-smoking rooms
Safe (at reception)
Reception from 7AM to 10PM
Dogs welcome (€5/day)
Half board : lien sur page restaurant
Night watchman
Free on-site parking
Bar
Recreation room
Reading, relaxation room
Travel light: we can lend you board games and outdoor sporting equipment (badminton racquets, soccer balls, etc.)
Arrival: after 4PM | Departure by 10:30AM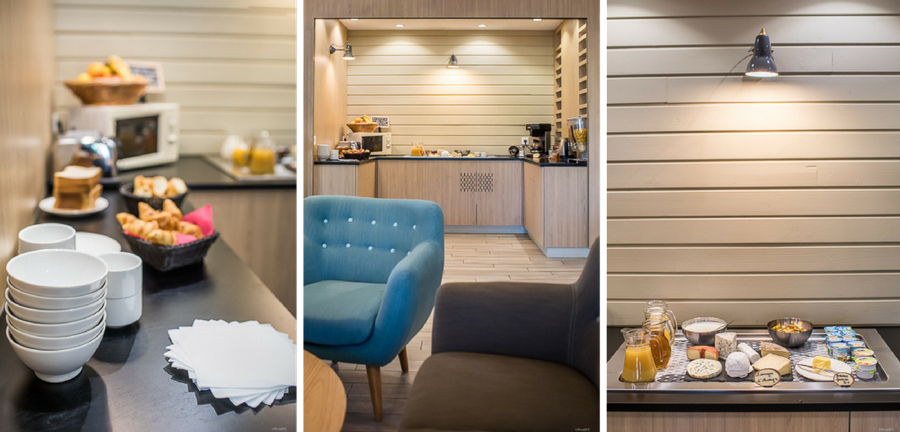 Breakfast
starting at €10,50
_______________________
From 7:30 to 9:30 on weekdays | 7:30 to 10:30 on Sundays
A TASTY START TO A DAY IN VOLCANO COUNTRY
Enjoy a complete and varied continental breakfast in our bright dining room or on our terrace when the weather is fine.
There's something for everyone: hot beverages (tea, coffee, hot chocolate), fruit juices, pastries, French bread, toast, local jams, cereal, honey, stewed fruit, yoghurt, fromage blanc, fresh fruit, Auvergne cheeses, etc.
Our environmental policy
__________________________
We are committed to protecting the environment (Clé Verte label).
For example, we collect rain water in our rain barrel.
You can help us preserve the beauty of our surroundings. Each room has a recycling bin for recyclable waste. We ask that you dispose of non-recyclable waste in the waste bin in the bathroom. Thank you for your assistance